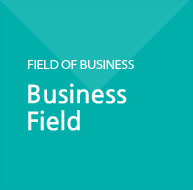 > Business Field >
Network Business
Network BusinessNo.1 firm.Good firm.Happy working staffs.


Background
Convergence between other industries will be actively developed along with IT technology development, the convergence of physical security and information security is being accelerated.

Policies
We foray into no.1 manufacturer by integrating the IT technology such as our door lock system to the representative market of convergence security market such as facilities security and access control field, and utilizing the black box technology for vehicles.

Business Field
- Network Business
- LED Light Business
- BEMS Business

In the early 1980s the government concentrated on supplying telephone facilities to publicize communication, and our network sector has took part in the business of expanding the telephone circuit from 400,000 in 1982 to 20 million today. The foundation of bringing information society forward motivated us to succeed in TDX-1 development and take part in the technology advancement of domestic switchboard market by starting the joint development of domestic full electronic switchboard and strive for R&D and technology development to supply high quality Korean switchboard withy endless technology development and management innovation.
/ In the current domestic market which is being threatened by Chinese products of 10~20% lower in price relative to domestic products, Meta Networks is focusing on developing differentiated high value added products over low price Chinese products and dominating the market through expanding applications. Our recently launched new model LED factory light (FL-150) has penetrated the conventional LED light market with differentiated strategies and benefits of simple product composition, light weight and convenient maintenance, as well as price competitiveness by selecting AC Direct IC that replaced SMPS. Despite Meta Networks is a second mover in the market, we are planning to establish our milestone focusing on streetlights, security lights and flood lights besides the recently launched factory light, and expand our light module product line-up by converging LED light source technology.
Meta Networks plans to promote our LED light business and building energy management solution targeting on communication service providers and large building management businesses through joint development with our partners.